Our Parish
Our Church

We are lucky to have our Church only a short walk from the school, on Chapel Lane. Our Church is a place of community, where everyone is welcome. Our Parish Priest is Father Ned and we have a very close relationship with him and the Parish. Father Ned is one of our School Governors and visits us regularly. We are also blessed to have a Sister Martine in the parish, who visits us regularly and teaches the pupils to sing. Faith is an important part of our school life - please read more to see what is going on in the parish of Our Lady of Lourdes and how you can develop this important aspect of your child's life.
Sunday Mass – 11am
Every Sunday Father Ned celebrates Mass at the church at 11am – everyone is welcome.
Church isn't a members only club and sitting in a church every Sunday doesn't make you a good person just as sitting in your garage every Sunday wouldn't make you a Ferrari! If you haven't been to church in years please don't worry - no one will be looking at you and on your way into church you will be given a leaflet with all the words of the Mass on. Going to Mass with your child is a special thing – it teaches them the importance of self-discipline, prayer, community and that there is more to life than what popular culture proclaims. The Mass itself is generally around 45 minutes in length and at the start Father Ned invites all young children in the church to go through to the sacristy for 'Little Church' which is led by volunteer mothers. Here they do all kinds of activities and games before being brought back to you about 15 minutes before the end of Mass. There is no pressure for your child to go to 'Little Church' – they can stay with you throughout the Mass if you want. After Mass all are welcome to enjoy tea, coffee and biscuits at the back of Church and catch up with friends or meet new people. There's also a little shop where you can buy religious items and cards. So come along – it's a great way to start a Sunday.
Church website: http://ourparishes.church/
The Catholic Faith at our School
Our Lady of Lourdes is a very special place to go to school.
We are a happy, kind and loving bunch - why not come along and see for yourself!
We try to be prayerful, respectful and loving.
We start each year with a Mass to celebrate the New Year.
Class Masses take place half termly at the church with Father Ned, who also visits us regularly.
The First Holy Communion Programme is up and running with our Year 3 children; Mrs Lydon runs the classes after school.
In the Autumn term we celebrate Harvest and make considerable donations to the Cornerstone homeless shelter in Moss Side.
At Christmas we have a Nativity play and a 'travelling crib' gets passed from family to family. We mark Advent and Lent with Prayer Trails, with the help of many Parish members.
Father Ned
Father Ned is our Parish Priest and we love him!
He is originally from Ireland. He resides at All Saints' Presbytery in Ashton on Mersey.
Father Ned is very busy as he looks after three churches and their primary schools: Our Lady of Lourdes, All Saints, and St Margaret Ward.
But I'm not Catholic / My child's not Catholic…
It's not just Catholics who are welcome in our church. Absolutely everyone is welcome. If you or your child aren't Catholic you can still go up for a special blessing from the priest during Holy Communion time in Mass. Just cross your arm across your chest/tell your child to cross their arms (see picture) across their chest and Father Ned will know to give you/them a blessing. If you would like your child to be baptised or if you yourself are interested in becoming a Catholic please speak to Father Ned after Mass or make enquiries via Cathy, the parish secretary at parishes3@yahoo.com. You would be very welcome!
Why our church and school is named in honour of 'Our Lady of Lourdes'
In 1858 a young girl named Bernadette Soubirous saw Mary, Jesus' mother, appear in a cave in Lourdes, a village in France. Mary (who Catholics call 'Our Lady') continued to appear to Bernadette over the course of the year. Because of this, Lourdes quickly became a famous pilgrimage destination, where people travel to from all over the world in hope of a cure or peace of heart. There are hundreds of schools and churches around the world named after 'Our Lady of Lourdes' – in 1964 our church and our primary school were built and it was decided by the Bishop at the time to call them both after Our Lady of Lourdes. We have a statue of Our Lady of Lourdes in our school's reception area and also outside in our school's prayer garden recently financed by SAICA.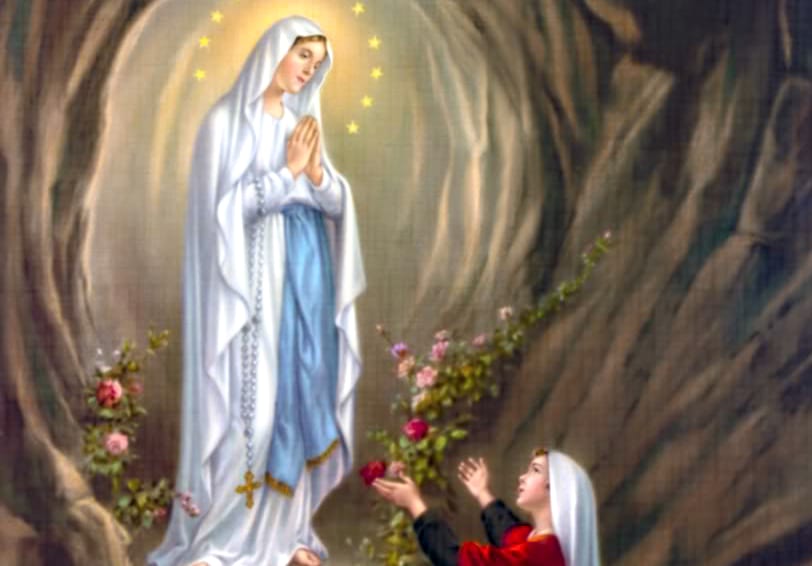 Common Prayers
One of the best things a parent can do for their child is to teach them how to pray. By teaching your child to pray, you help them to acknowledge that there's more to life than the here and now and you give them the opportunity for a close relationship with God. Prayer will help them through all of life's difficulties. It's never too late to teach your child to pray. Pope Francis recently had this to say:
Prayer is especially important for families. It is in the family that we first learn how to pray. And don't forget when the family prays together, it remains together. This is important. In the family we learn how to love, to forgive, to be generous and open, not closed and selfish. We learn to move beyond our own needs, to encounter others and share our lives with them. That is why it is so important to pray as a family!
Our Father: Our Father, Who art in heaven, hallowed be Thy name; Thy kingdom come; Thy will be done on earth as it is in heaven. Give us this day our daily bread; and forgive us our trespasses as we forgive those who trespass against us; and lead us not into temptation, but deliver us from evil. Amen.
Hail Mary: Hail Mary, full of grace. The Lord is with thee. Blessed art thou among women, and blessed is the fruit of thy womb, Jesus. Holy Mary, Mother of God, pray for us sinners, now and at the hour of our death. Amen.
Glory Be: Glory be to the Father, and to the Son, and to the Holy Spirit, as it was in the beginning, is now, and ever shall be, world without end. Amen.
Grace before meals: Bless us, O Lord, and these Thy gifts, which we are about to receive, from Thy bounty, through Christ our Lord. Amen.