UPCOMING DATES- Y1 school trip to Beeston Castle 08.11.23, Stay and Play in EYFS 14.11.23, Parents Evening 22.11.23 and 23.11.23, First Holy Communion enrolment Mass 26.11.23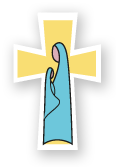 Welcome to our Our Lady of Lourdes RC Primary School
Our Mission Statement sums up what we are about:
'Living and sharing the message of Christ, in peace we go forward together.'
As a Catholic school, we seek to work together with our families to develop a knowledge and
understanding of our faith, and of God's great love for us.
At the same time, we aim to provide a curriculum which is inspiring and challenging and allows all
children to reach their potential.
All staff at Our Lady of Lourdes are united in this and in working in partnership with our families and
Parish community.
We are aware that your children are our future and we are privileged to have this time with them at
primary school. We aim to give them the best possible start to their education so that they are
equipped to 'live life to the full'.
We look forward to working with you.
Natalie Gaulton - Headteacher