"Our Lady of Lourdes is a good Catholic primary school, with some outstanding features. The school is warm and welcoming, and has very strong pastoral support systems." Section 48 Inspection report, March 2016
10th April 2017
Well done to all children and staff. Our monitoring visit from HMI Sue Eastwood last week was a great success. Thank you parents for your lovely responses to the parent questionnaire. We look forward to sharing her letter with you.
Thank you for visiting our website, which we hope you will find helpful. Please use the links on the left to look around, contact us if you would like to know more. You can arrange a visit or request a prospectus.
Telephone Mrs McGarvey with any queries: 0161 775 2847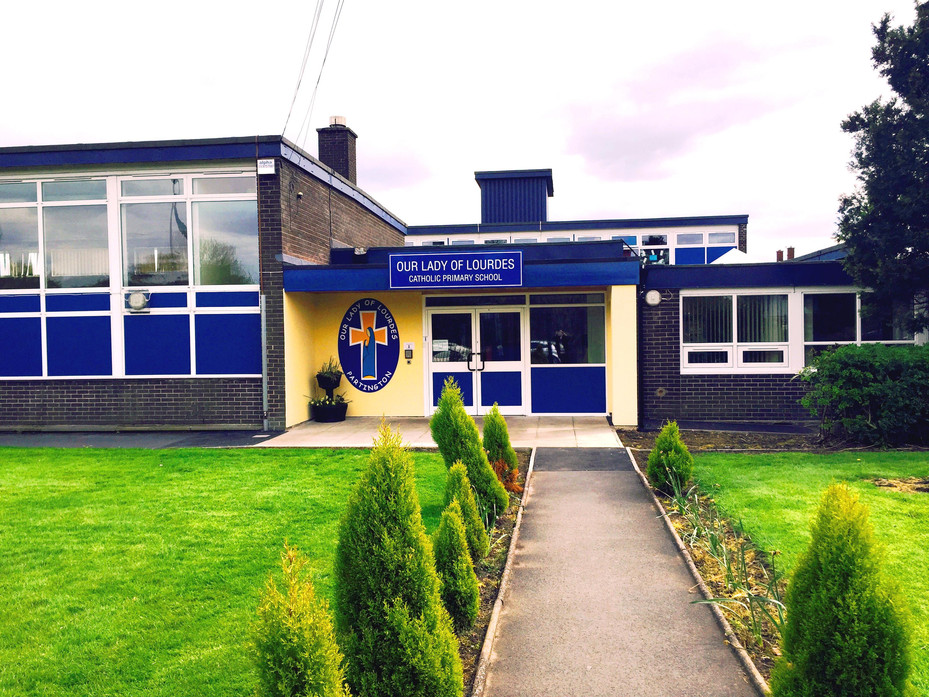 Our Lady of Lourdes opened in September 1964. We have seven classrooms, a main hall and a community kitchen; we also have a lovely nursery on site which was built ten years after the main school. We are very fortunate in having large playing areas for our children and access to extensive grassland in the finer weather. Our children are catered for extremely well at lunch-times with a choice of healthy menus and organised activities carefully supervised by trained midday assistants. A wide choice of extra-curricular school clubs are always on offer and strong links with the parish and wider community are actively encouraged.
We are proud to belong to the Parish of Our Lady of Lourdes. Click here for Rev. Fr. Ned Wall's website.
2014-2015 was our Golden Jubilee Year. Read about it here - click here for details.
Recent News:
Congratulations to our Year 5 and Year 6 children who recently took part in NSPCC safety workshops. The speakers were very impressed by their knowledge about keeping safe.
Key Stage 2 children raised over £700 for the NSPCC through the sponsored Spelling Competition!
Many thanks to all who sponsored them!
Children from across the school have been lucky enough to contribute to an art project by having their hands cast. The completed hands will form a giant mural at the new shopping centre. You can expect to see your child's hand on the mural from April, for many years to come! Artist Sophie Mahon has made a video of the messy process. What a privilege it was to work with such talent. Watch the video here.
Look at Sophie's other work here.
Year 5 were lucky enough to join the Newsround Bullying Debate during anti-bullying week.