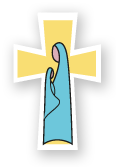 Welcome to our School
and our WONDERFUL new Website
My name is Anthony Rae and I am the Executive Headteacher here at Our Lady of Lourdes Catholic Primary School at the request of the school's Governing Body, the Diocese and Trafford School Improvement Service.

I am not a stranger to this wonderful school – I actually started my teaching career here (33 years ago!) as a newly qualified teacher in 1984. It was a fantastic place to start my teaching and I have always held special memories of my time here. I actually lived in a caravan at the bottom of Lock Lane, (Inglewood, I think it was called. It's gone now.)

In 1993 I came back to Partington for 3 and a half years to be the Deputy Headteacher at Partington Primary School (now Partington Central Academy). I possibly taught some of you!
And here I am again – this time as your Headteacher from January until the end of the summer term 2018.

I am Executive Headteacher because the previous Headteacher has left and an advert has gone out to recruit a new Headteacher, hopefully in time for September 2018.
Welcome to our very special school.
Latest School Calendar Events
Teacher Training Day

03

Sep

2018
Teacher Training Day

04

Sep

2018
Back to school for children

05

Sep

2018

8:55 am - 3:00 pm